I have a weakness for metallic, shimmery bronzey shades. When I saw this at
Sephora
I had to buy it. The Stila Bronze Glow Baked Eyeshadow Trio has a champagne, bronze, and chocolate brown color. This baked eyeshadow goes on sheer and takes time to build up color as it looks like on the pan. For a more dramatic and pigmented look, you can wet a brush and apply the shades. Each color complements the other.
I just loooove the colors. My favorite is the bronze shade. I also like to mix the chocolate brown with the bronze to create a darker bronze shade.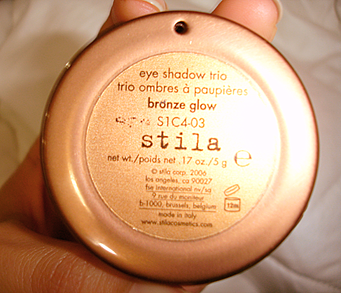 Here's the swatch of all the colors.
The champagne color is shimmery and has a lot of fall-out. I find that the champagne color needs a lot of building to get a good color payoff. A good primer is needed for longer staying power and pigmentation.
RATING: