My lovely bf got me this Buxom Lip Gloss. I love lip glosses and this orangey color is very nice. I couldn't wait to try it on!
Buxom Lip Gloss in Debbie
The color is gorgeous. There are micro specks of gold shimmer in the gloss.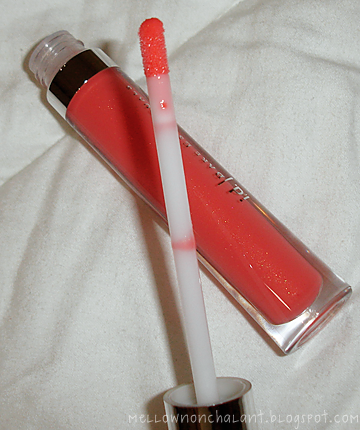 The lip gloss has a minty scent about it. I like the mint effect because it adds freshness to your lips.
Here's the lip gloss on. You can build the color easily.
RATING:
PRICE:
I got the lip gloss as a gift so I give it a 5. At Sephora, it runs around $18.

SCENT:
Clean and minty. I like the freshness.

PLUMPING:
I don't see any plumping effect even though it claims to plump your pout.
DURATION OF WEAR:
I don't have much to say about the duration of wear. It's pretty decent. I didn't come across much to complain about.