TOO FACED - Soft & Sexy Shadow Collection is one of the palettes I've been coveting since I've laid eyes on it at Sephora. Now I finally bought it! Time for a review!
The packaging is very sexy! Light pink with accents of black.
The colors look gorgeous. The eyeshadow colors are mixed with light and dramatic shades to create natural to smoky looks. The quality of the eyeshadows are good. Although I find some shades harder to work with. It takes more time to build the darker grey shade Unmentionables up.
What I like about this palette is that you can start with a clean, minimal look and spice it up for evening wear.
♥ Satin Sheets, Pink Cheeks, & Birthday Suit: light and shimmery with microglitter.
♥ In The Buff, Like A Virgin, & Stiletto: matte shades. I'm a sucker for matte shadows so I love these!
♥ Lap Dance, Satin Sheets, & Unmentionables: slightly metallic and shimmery with a thick texture.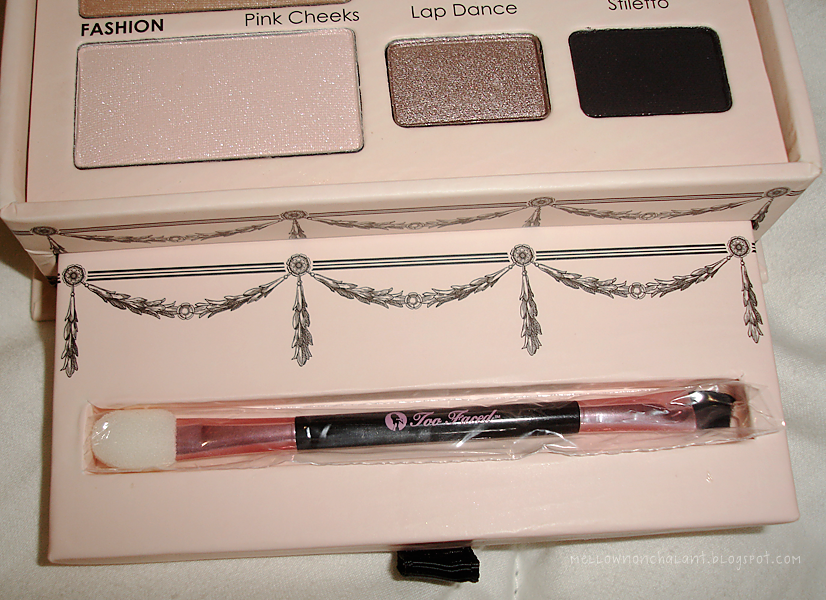 TOO FACED includes a dual ended sponge tip applicator and an angled brush. I think this brush is somewhat pointless though. Although the angled brush would be good for applying cream eyeliners.