Long time since I've updated.
Here's the GEO Angel Violet circle lens I ordered from
Pinkparadise
.
I've had these for a while but haven't posted a review on it yet.
Looks pretty nice with flash photography.

Wish that the lenses are brighter and more opaque.

It kinda has a sunflower design with a black limbal ring.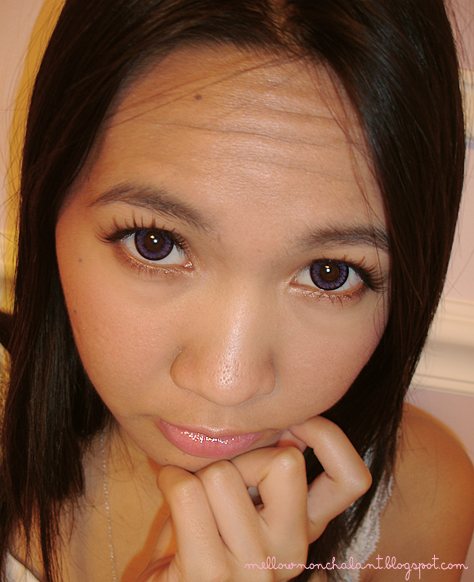 Full face shot

.
REVIEW:

DESIGN:
It has a dark limbal ring which should give a dolly look but since it looks quite dark when worn, it doesn't show as much.
It has a big pupil space so it does not impede vision.

COMFORT:
It doesn't sting my eyes or make them feel boggy and heavy (which is what I feel when I wear other circle lenses). These are comfortable lenses from GEO, about as comfortable as the Neo Visions but not as thin.

I can wear these for 6-8 hours without much discomfort although it does move around my eye every time I blink.

COLOR:
I ordered these because the stock photos looked really vibrant. In real life, its very dull and dark when I wear it. It looks good with flash photography and bright lighting. But I was hoping that it would be more opaque and bright but its not so I'm giving it a low score. These lenses don't make a big dramatic change in color, so if you are looking for a pair of vibrant violet circle lenses, this will not achieve that look. However, if you want a subtle and more natural look these would be good for that.

PRICE:
Pretty affordable.

I paid around $21 for these babies so I can't complain.
OVERALL:
Will I repurchase these again? No. Its doesn't make a remarkable difference on my eyes. I wish the lenses are brighter and lighter but they are comfortable.